Aeronautics, public transport, freight, logistics, warehousing… Welcoming travellers and handling parcels and luggage in optimal sanitary conditions has become essential. Steriluv offers a tailor-made disinfection solution that enables transport and logistics companies to integrate an effective and ecological air and surface disinfection system.
Logistics provided in the best sanitary conditions
The surfaces of goods can be contaminated by various bacteria and viruses. Steriluv products drastically reduce the amount of pathogens in the air and on surfaces (viruses, bacteria and fungi) to ensure that logistics processing is carried out under the best possible conditions.
Sterliuv solutions are equipped with an innovative technology that limits the risks of contamination by destroying pathogenic micro-organisms (viruses, bacteria, fungi).
Disinfection of luggage to limit the risk of spread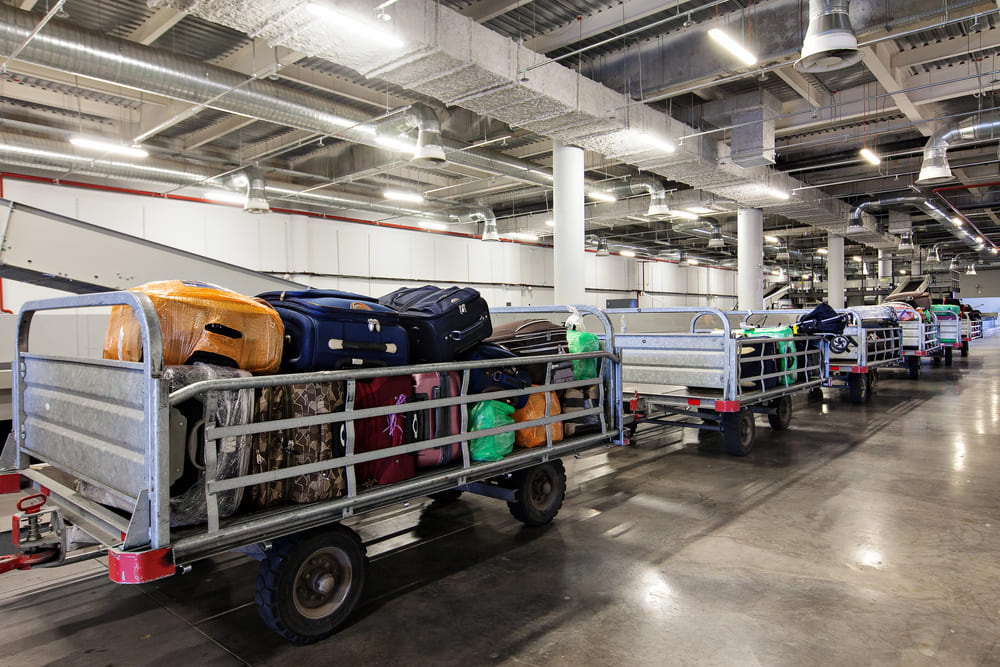 The Steriluv range has been designed to meet the most stringent disinfection requirements. For the safety of operators, crews and travellers, our products are effective in :
Decontamination of hand luggage
Disinfection of hold luggage
Lobby, lift with Sterliuv Lift
Disinfection of public areas
Disinfection tunnel Post-customs
Decontamination of bins at the security gate
Disinfection of baggage conveyors
Disinfection of containers
Disinfection of trucks or transport vehicles
Disinfection of aircraft (seats, rows, cabins)
Limit the risks of contamination without chemicals thanks to UV-C LEDs, avoid respiratory diseases and be environmentally friendly.
Laboratory tested and CNRS certified, Steriluv products use UV-C LED to destroy bacteria and viruses in the air and on surfaces. During the disinfection cycle, everything exposed to the UV rays is decontaminated, thus avoiding the use of chemicals and the intervention of a cleaning service.
The disinfection cycle lasts from a few seconds to a few minutes depending on the volume to be disinfected and the power of the Steriluv. Fast and easy to use, Steriluv devices use UV-C LEDs for better durability (to find out more, see our LED vs. mercury lamps comparison)
You can also choose our portable and versatile SterilUV compact unit to safely remove viruses from any surface.
Maritime and inland waterway: Ensuring a healthy environment on board
Decontamination of surfaces, common objects or the environment
Treatment of common areas and cabins
Sterilisation of catering equipment
Treatment of navigation instruments
Tailor-made products
To meet the requirements of your specifications, Steriluv designs and manufactures UV-C LED sterilisation equipment to your own
Our design office is at your disposal, contact-us.