Steriluv Lift

2 in 1 solution for air treatment and surface disinfection
STERILUV LIFT
The ideal solution for effectively disinfecting the surfaces of cabins, control panels and handrails.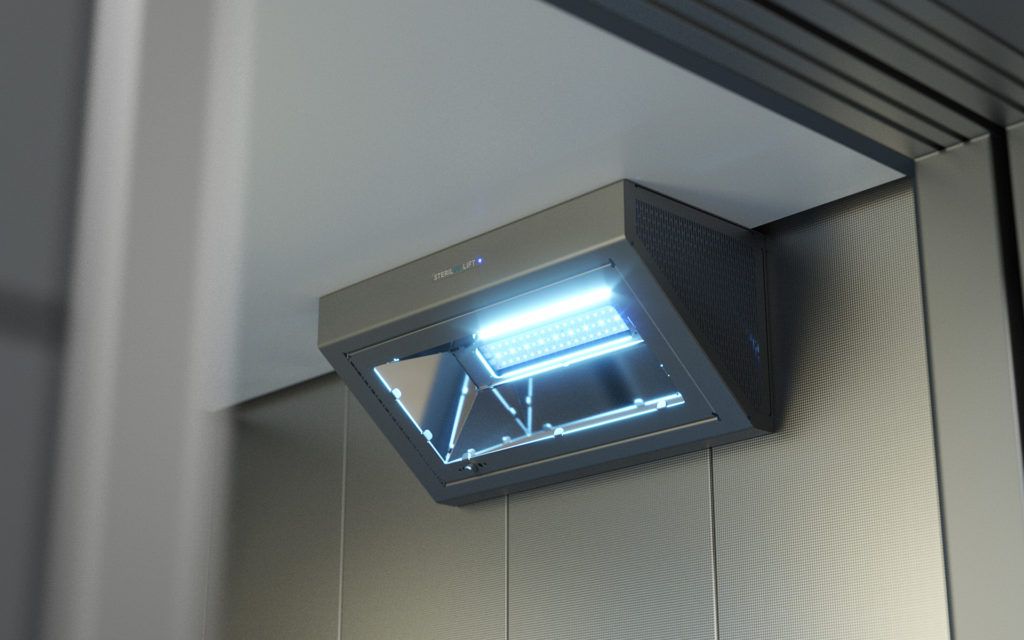 The innovative STERIL UV LIFT system destroys the nuclei of bacteria and viruses (including SARS COV 2) and prevents their reproduction leading to their elimination thanks to UV and UVC LEDs.
Installed directly in the cabin, the STERILUV LIFT is equipped with safety sensors and starts disinfection cycles when the cabin is empty. Easy to install and discreet, the device offers an effective 2 in 1 disinfectant solution (Air treatment and Surface disinfection) without heat or chemicals.
STERIL UV LIFT cleans surfaces and performs air treatment without releasing ozone or other harmful chemicals in the cabin.
Air treatment : STERILUV LIFT reduces the risk of SARSCOV2 transmission in the cabin * in less than 25 seconds for a LOG 1.
Surface treatment : STERILUV LIFT disinfects the surfaces in the cabin * and destroys the SARSCOV2 in less than 1min30 for a LOG 1 and in less than 3 min for a LOG 2.
* For an average elevator dimensions: Elevator M (1200 x 800 x 2000 mm)