Steriluv Box

The fast and effective solution for disinfecting all your small objects.
NEW : STERILUV BOX
The ideal solution for disinfecting work tools, containers, masks, glasses, telephones etc…
Quickly disinfect your objects.
The Steriluv Box is compact and highly effective thanks to its LED UV technology. It can be used to disinfect all small objects. Thanks to its secure door, its use does not require any protective equipment for the users.
Disinfect your objects, devices, masks, glasses, keys, common objects…
No need for personal protective equipment
Safety of users
Validated by the CNRS on SARS COV 2 and on staphylococcus bacteria, aureus, etc…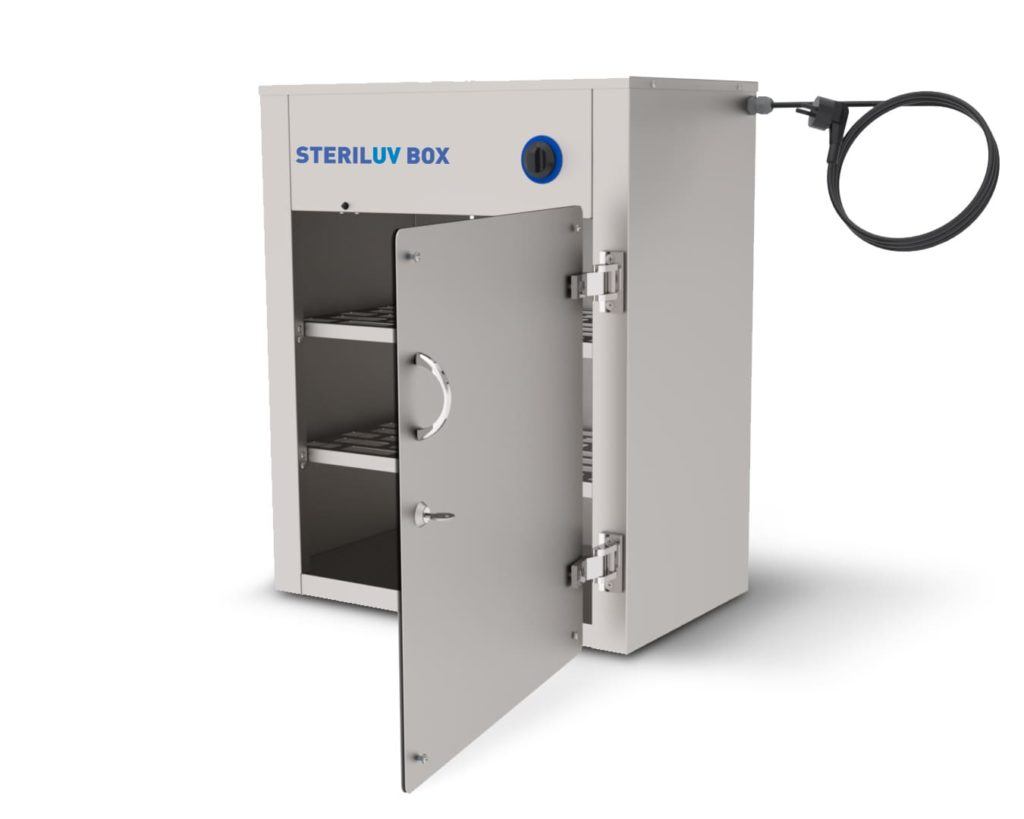 Steriluv Box
Equipped with the TRILOGY UV LED version including UV-C LED 265 nm, this system uses 200 W of UV LED to decontaminate, disinfect and sterilise your small objects.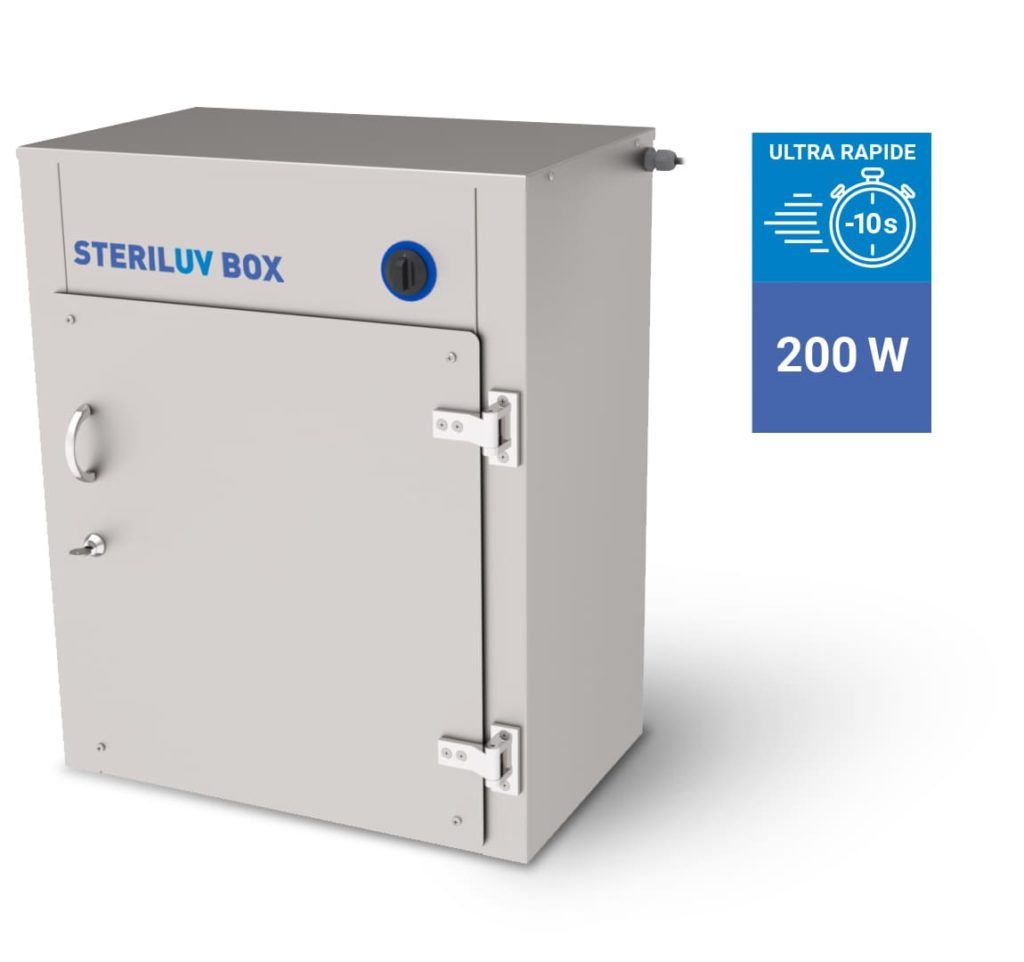 Steriluv Box Eco
Equipped with the LED UV-C version, this system uses 60 W of 265 nm LED UV-C to decontaminate, disinfect and sterilise your small objects.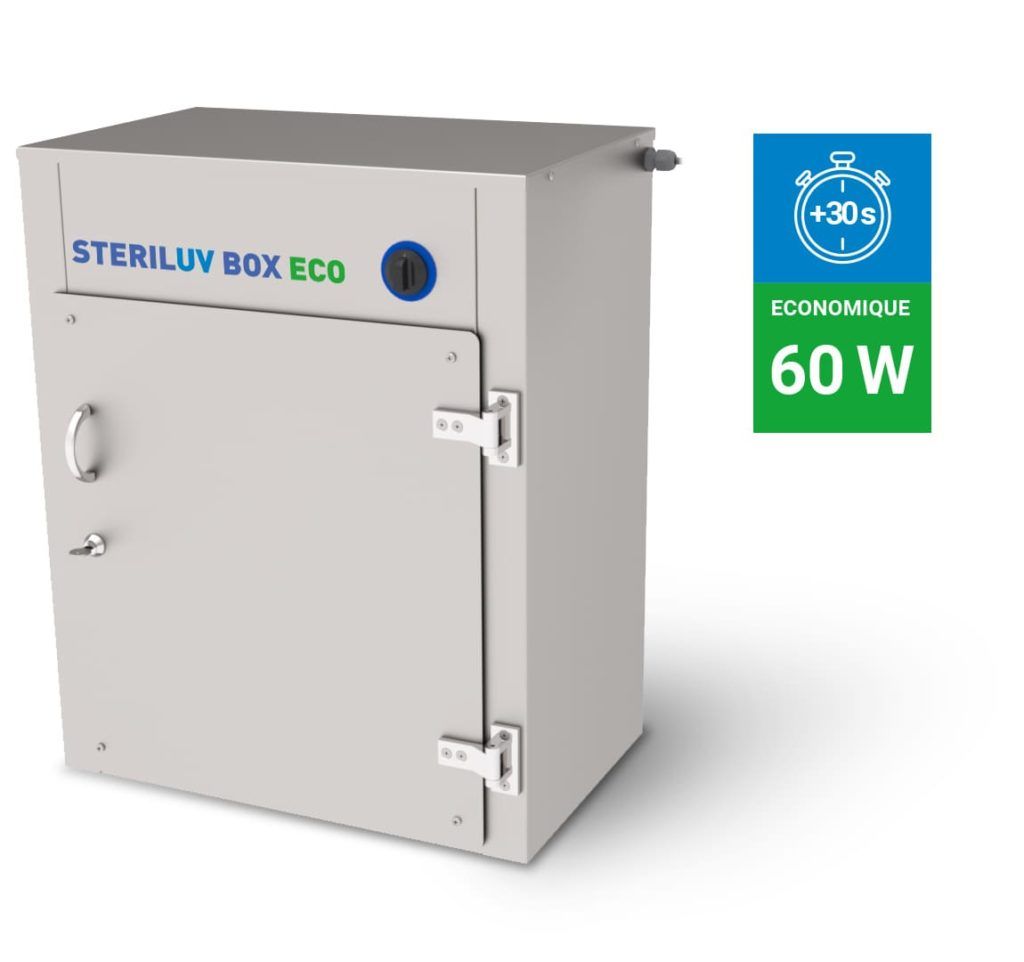 The advantages of UV LED disinfection
UV LED disinfection avoids the use of chemicals or hydroalcoholic gels and allows the rapid disinfection of electronic products.
With the UV LED, there is no damage to the materials.
Large capacity cabinet with two support levels.
Reflective inner surface for better circulation of the UV-C LED or UV LED Trilogy.
Timer with automatic stop at the end of the cycle or when the door is opened.
Total user safety guaranteed by a safety switch that cuts off all power when the door is opened. The cabinet is equipped with a stainless steel door which makes it completely radiation-proof during operation.
STERILUV BOX and BOX ECO are manufactured in France in stainless steel, which guarantees an excellent quality of manufacture and the respect of safety standards.
The UV LED trilogy
The UV LED Trilogy is a combination of 3 UV wavelengths including UV-C.
With a wavelength of 265 nanometres, UV-C penetrates the core of bacterial or viral structures to damage nucleic acids (DNA and RNA) and thus inactivate them.
The simultaneous use of the two UV wavelengths allows a complementary catalytic role in the inactivation of micro-organisms.